In a small, gloriously funky club
on Nashville's legendary Lower Broadway, ground-zero for the city's only real musical scene in recent memory, Jamie Hartford's band of cagey veterans takes the stage. While most of the district's venues vie for the almighty tourist dollar with campy retro-country, this crowd is mostly local. Songwriters, pickers, music-biz professionals and students from the area's colleges - they have stopped in for a dose of the real deal, a brief respite from the mainstream. For the next few hours Hartford and crew serve up his deliciously insightful songcraft with humor, depth and soul; qualities they captured faithfully on their Paladin Records debut, What About Yes. "At this point," says Hartford, "these guys are so good together that all I have to do is give a little nod of my head, and they know where I'm going. We like to keep it loose. Everybody's willing to go out on a limb because we know we can just smack it back in whenever we want. That gives you a lot of freedom, and it keeps things fun for us and the audience. It makes the songs fresh every time."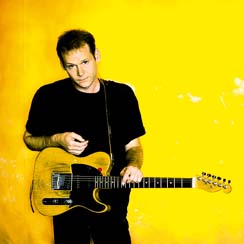 Hartford learned about substance and delivery from the best: his father, John Hartford. In the late sixties and early seventies John helped make organic folk/country a part of pop consciousness. Jamie shunned musical pursuits for a time, having seen some of the less-friendly sides of the business, but he remembers finding something in it for himself by his early teens, smitten with heavy hitters from Willie Dixon to Steely Dan. After high school, he signed on with all manner of cover bands ("we'd go to Canada for, like, two months at a time - just pile in a van and head for the Great White North"). It was good practice, he allows, a schooling that made him a journeyman in short order. Having written songs almost since he began playing, Jamie cut a deal with his dad: twenty-five bucks for every tune he turned in. "He finally got tired of me handing over a wad of songs every time I needed some spending money, but I learned a lot about songwriting that way. Hey, a guy's gotta have money for gas and beer."
   Jamie continued his "education" at the feet of a true master, Cowboy Jack Clement. He recalls his stint with the revered songwriter and impresario as a great experience. "He called me up one day, my dad and I had just finished doing a record at his place, and he asked if I wanted to be in the Clement School of Music. I said "Hell, yes!" It was amazing seeing how he approached things. I'd go in and do a little overdub on a Johnny Cash record or whatever. Pretty cool stuff." Before striking out on his own, he would also log road miles with his father and John Prine, and filled in for Albert Lee whenever the guitar icon couldn't make an Everly Brothers date (Jamie still subs for Albert with the Everlys.) He's also pulled sideman duty with the re-formed Amazing Rhythm Aces. Most of his energy is focused on his own music these days, though, and he's gathered some of Nashville's most respected players to help him make it. Guitarist Ray Flacke, drummer Rick Lonow, harmonica man Paco Ship and bassist Charlie Chadwick make a formidable lineup.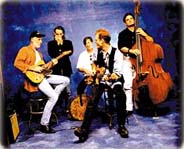 "This is a band thing, not just a guy with some faceless sidemen behind him. That's really important to me. There are five different voices going on at the same time, and that gives it depth. They're all competent in lots of different styles, and they bring all of that to what we do. Oh, and I should mention that Pat McLaughlin (guitar), 'Stick' Davis (Rhythm Aces bassist) and Jim Lauderdale are honorary band members. They're on the record, too, and they all pitched in with some killer parts."
    As with any artist whose music is more than surface-deep, describing Hartford's sound is somewhat tricky. Regulars at their live gigs cite rock'n'roll, blues, and honky-tonk styling as primary elements, but the word "grease" is also tossed around frequently. "We really wanted that to come off on the record," Jamie says, "and it's there. R.S. Field did a great job as my co-producer. He knows when to get in there and kick your butt a little, and when to stay out of the way and let something happen. He reminds me of Jack Clement in a way - he just does whatever it takes. He and the engineer, Mike Corbett, are really into fat guitar sounds and making everything sound real. I couldn't be happier with the sound of the CD.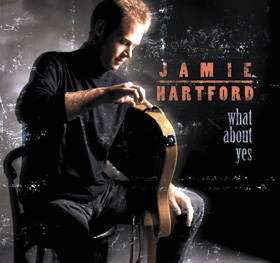 With the release of What About Yes, Jamie Hartford and his band are booking dates in the Southeast and beyond. And in the spirit of his formidable mentors, Jamie is bringing a bit of his hometown's real musical heritage to folks who like "a little meat on the bones."

ßack